W.C. Faulkner (1866-1942) and Ella (1874-1920)

Source: Fay Beierbach, From Sage to Timber history book
William Corbett Faulkner was born at Milwaukee, Wisconsin, November 7, 1866, and Ella Duncan Burns was born September 14, 1874 at Collingwood, Ontario. They were married at Walla Walla on September 20, 1892.
In 1902 the Faulkner family with their five children, Ora, Eva, Allie, Ray, and Lawrence, and Ella's mother moved to the Cypress Hills to the spring west of Merryflat on the Saskatchewan-Alberta border. Two more children, Harry and Sylvia, were born to the Faulkners in the Cypress Hills.
After the death of Ella in 1920 William continued to ranch and spent a lot of time over the years with his married children. In the late 1920s he lived for a time in Medicine Hat with his daughter, Allie, and in the 1930s he spent some winters in Havre with Lawrence, and the rest of his time was spent at the ranch with Ora, Ray and Harry. About 1938 he moved to BC to be with his daughter, Eva, where he lived until his death in 1942.
William and Ella's oldest surviving son, Ora, married Bessie Ristow from the Eastend area. Ora lived in the Cypress Hills all his life until his retirement to Maple Creek where he passed away in 1972.
Eva married Bert Baker and lived for a time just east of the Merryflat School. Their seven children attended Merryflat School until they moved to BC about 1930.
Allie married Fred Tompkins and they lived in the Graburn district where they had three children.
Ray married Myrtle Buchanan and had one daughter, Fay. He lived and worked all his early life in the Cypress Hills with most of his time spent in the successful operation of the original Faulkner Ranch. In 1952 he married Alice Ramsay and in 1965 they moved to Medicine Hat.
Lawrence married Lena Butts from the Wildhorse district. They lived in Havre, Montana, where they raised two children.
Harry married Maisie Kelly from Merryflat. They raised three children, Winnie, Gordon and Shirley, on their ranch just a couple of miles from where Harry was born.
Sylvia married Albert Noble from the Thelma district. They lived at various places in the Cypress Hills where they had three children.
The original Faulkner Ranch is still in the family, now owned and operated by the families of W.C Faulkner's great-grandsons, Roger and Ross Beierbach.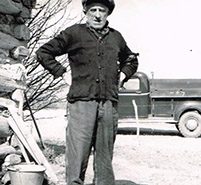 https://consulmuseum.ca/wp-content/uploads/2016/05/2-1.jpg
201
201
Susan P
https://consulmuseum.ca/wp-content/uploads/2020/08/museumlogo_header.jpg
Susan P
2016-05-04 19:39:48
2022-03-09 15:28:19
Harry Dore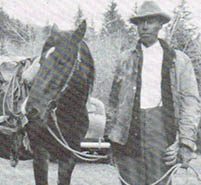 https://consulmuseum.ca/wp-content/uploads/2016/05/8-1.jpg
201
201
Susan P
https://consulmuseum.ca/wp-content/uploads/2020/08/museumlogo_header.jpg
Susan P
2016-05-04 19:42:19
2022-03-09 15:28:19
Louie Dumont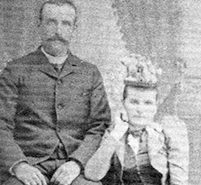 https://consulmuseum.ca/wp-content/uploads/2016/05/faulkner-1.jpg
201
201
Susan P
https://consulmuseum.ca/wp-content/uploads/2020/08/museumlogo_header.jpg
Susan P
2016-05-04 21:18:45
2022-03-09 15:28:20
W.C. & Ella Faulkner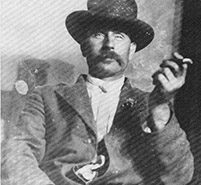 https://consulmuseum.ca/wp-content/uploads/2016/05/dennisgaff-1.jpg
201
201
Susan P
https://consulmuseum.ca/wp-content/uploads/2020/08/museumlogo_header.jpg
Susan P
2016-05-04 19:59:58
2022-03-09 15:28:20
Dennis (Bub) Gaff