Iliff Wallace
Source: Wallace Ranch in the Forgotten Corner history book
In the spring of 1889 Jim Wallace came to Canada from Idaho with his wife and two children. Iliff was born in Alberta.
They travelled by covered wagon and had one hundred and sixty head of cattle and twenty-two horses. They crossed the Idaho desert, which was a long, hot and dry journey. They crossed the Canadian border where Carway is located now and reported to the St. Mary's detachment of the R.N.W.M.P. on the St Mary's River. They ranched south of Lethbridge, Alberta until 1910 when they moved to the Manyberries, Alberta country.
They established the J.H. Wallace Ranching Co. owned by J.H. Wallace and Walter Ross. Manyberries was then just a post office. The Blacktail Ranch was the headquarters. That is now part of the Manyberries Experimental Station; the buildings have been moved to the Station.
Wallace and Ross bought the Lost River Ranch in 1910. They also owned the Cross Z, plus eleven townships in Saskatchewan for summer range. In 1910 Medicine Hat, Alberta was the closest town on the Canadian side.
From the summer range the town was Maple Creek, Saskatchewan and from there they shipped two thousand, six hundred head altogether.
Travel was almost entirely by team in those days and twelve riders were kept the year around with eighteen in the summer time. They needed a string of two hundred saddle horses.
In 1917 they acquired the Spencer Ranch from Spencer, Phillips and Taylor for fifty cents an acre, seventy dollars a head for cattle, and one hundred dollars for saddle horses. At that time they ran between ten thousand and eleven thousand head of cattle.
Lease and taxes were two cents per acre. In the year 1920 they also bought the "Q" Ranch from JJ Bowlen. He had bought it from Tony Day.
1915-1916 was a bad winter and 1919-1920 was a desperate winter. Cattle were worth ten cents a pound in the summer of 1919 and in 1920 they were worth 2 and a half, to three cents. The Wallace Ranch spent over one hundred thousand dollars for feed and lost thirty three per cent of their cattle.
Corn was shipped from Minneapolis to Gilford, MT and freighted out by horses to the ranch. Hay was forty dollars a ton laid down at the ranch. Some of this was bought from Harms at Orion, Alberta.
The cattle were in weakened condition and some of the hay was not very nutritious. The winter was long, lasting till late April. The teamsters' faces were black with frostbite. A big percentage of livestock people went broke that year.
Those were the days of the big cattle ranch, much bigger acreages than at present. With the equipment of the day it goes without saying that occasionally things got a bit interesting.
In his life Iliff Wallace had seen many prairie fires, but tells of the biggest one he ever saw. It was started by lightning east of Willow Creek and burned to where Climax, Saskatchewan now stands, south of Shaunavon, burning itself out on the White Mud River. Lots of homesteaders' houses were burned. At its widest the fire was thirty miles from north to south and one hundred and twenty miles from west to east. The Wallace Ranch lost about two townships of grass east of Battle Creek.
They had entertainment, too. They went thirty and forty miles to a dance. It took a day to get there, they danced all night and rode back home next day. The music was supplied by violin and mouth organ. These evenings were events to be remembered; the young riders went to their bunkhouses to dream of the girls they danced with.
These were the good old days when everyone was your neighbor and every traveler was invited to a meal, no matter what the time of day.
The SE and the Black Eagle belonged to Jim English. Ross sold the Lower Spencer to the Gilchrist Brothers and the Upper Spencer to Mack Higdon. The –N- had belonged to Hooper and Huckvale. The Lost River originally belonged to Starks and Burton, who sold it to Add Day.The Wallace Ranch bought it in 1910. The Wallace Ranch owned the "Q" and the Cross Z until 1927 when they sold it to the Gilchrist Brothers. Iliff Wallace bought a ranch at Maple Creek and from there he retired to Medicine Hat.
James Wallace was a younger brother of Iliff, and worked on the "Q" ranch when it was owned by Wallace and Ross. He married Cassia McKay, a younger sister of Mrs. Barney Simpson. They lived in the Brooks area for a time. Later Jimmy moved to Vancouver. Their children, Norma, Lucille, Edith and Roland all stayed at Simpson's at various times and attended Wild Horse School.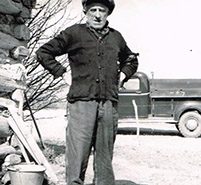 https://consulmuseum.ca/wp-content/uploads/2016/05/2-1.jpg
201
201
Susan P
https://consulmuseum.ca/wp-content/uploads/2020/08/museumlogo_header.jpg
Susan P
2016-05-04 19:39:48
2022-03-09 15:28:19
Harry Dore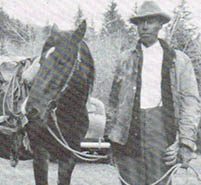 https://consulmuseum.ca/wp-content/uploads/2016/05/8-1.jpg
201
201
Susan P
https://consulmuseum.ca/wp-content/uploads/2020/08/museumlogo_header.jpg
Susan P
2016-05-04 19:42:19
2022-03-09 15:28:19
Louie Dumont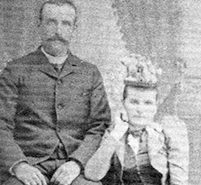 https://consulmuseum.ca/wp-content/uploads/2016/05/faulkner-1.jpg
201
201
Susan P
https://consulmuseum.ca/wp-content/uploads/2020/08/museumlogo_header.jpg
Susan P
2016-05-04 21:18:45
2022-03-09 15:28:20
W.C. & Ella Faulkner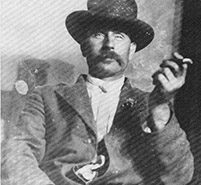 https://consulmuseum.ca/wp-content/uploads/2016/05/dennisgaff-1.jpg
201
201
Susan P
https://consulmuseum.ca/wp-content/uploads/2020/08/museumlogo_header.jpg
Susan P
2016-05-04 19:59:58
2022-03-09 15:28:20
Dennis (Bub) Gaff