J.M. Spangler
Sources: From Sage to Timber and Our Side of the Hills history books
John M. (J.M.) Spangler was born in Indiana in 1867.  He married Dora Belle Casey, who was born in Arkansas, in 1877.  She had travelled to Montana in a wagon train when a child.  J.M. moved west in the nineties, to Butte, Montana where he worked in the mines.  He also worked for the Great Northern Railway.
In 1902, J.M. and his brother, Morris, came to Canada and located.  Morris then went to Chester, Montana to live.
In 1903, J.M., his wife and sons, Carl and Harold, travelled to the Cypress Hills country in a covered wagon and settled towards the south end of Six Mile Coulee.
Farsighted, ingenious, great engineer, all describe J.M. Spangler.  He saw what irrigation would do for this part of the country, and surveyed and developed an irrigation project on his meadow land in the Six Mile Coulee, making use of water in the Six Mile Creek.
J.M. also homesteaded on the NE 13-2-30-W3rd, which was southwest of Govenlock.  He saw the potential for irrigation so obtained water rights and built a dam east of his buildings and proceeded to develop an irrigation system.  This land (fifteen hundred acres) was obtained from the Department of the Interior as a water right (that is, you had to get water on the land before you got the deed to that land.  Anything you could get water on was yours).  The development of this project began in 1907, and the work went on for years and years.  It was back breaking work done with horses and scrapers.  He grew hay and grain there.
J.M. spent time at both ranches, but mostly at Govenlock.
J.M. suffered a stroke in 1946 and was unable to work.  Hugh Robinson, Agricultural Representative (Ag.Rep.) for Eastend at the time, succeeded in interesting the provincial government in the project.  When the P.F.R.A. took over the project they made a few changes, but the general layout has remained as J.M. had planned it.
After J.M. had his stroke it left him paralyzed so he and his wife moved to Maple Creek.  Mrs. Spangler died in 1952. J.M. died in 1953.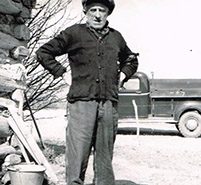 https://consulmuseum.ca/wp-content/uploads/2016/05/2-1.jpg
201
201
Susan P
https://consulmuseum.ca/wp-content/uploads/2020/08/museumlogo_header.jpg
Susan P
2016-05-04 19:39:48
2022-03-09 15:28:19
Harry Dore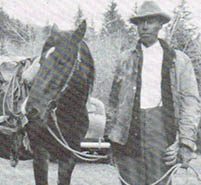 https://consulmuseum.ca/wp-content/uploads/2016/05/8-1.jpg
201
201
Susan P
https://consulmuseum.ca/wp-content/uploads/2020/08/museumlogo_header.jpg
Susan P
2016-05-04 19:42:19
2022-03-09 15:28:19
Louie Dumont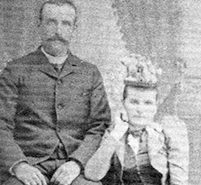 https://consulmuseum.ca/wp-content/uploads/2016/05/faulkner-1.jpg
201
201
Susan P
https://consulmuseum.ca/wp-content/uploads/2020/08/museumlogo_header.jpg
Susan P
2016-05-04 21:18:45
2022-03-09 15:28:20
W.C. & Ella Faulkner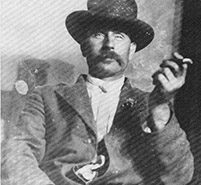 https://consulmuseum.ca/wp-content/uploads/2016/05/dennisgaff-1.jpg
201
201
Susan P
https://consulmuseum.ca/wp-content/uploads/2020/08/museumlogo_header.jpg
Susan P
2016-05-04 19:59:58
2022-03-09 15:28:20
Dennis (Bub) Gaff