John Grant (1842-1921) & Mrs. Grant

Source: Laura Parsonage in From Sage to Timber history book

The Grants came to Fort Macleod the fall of 1885 from Oregon, USA. John was a ship's carpenter by trade. He ran a horse ranch at Fort Macleod then moved on to Graburn, Alberta, around 1896. It seemed like too many farmers were moving in for his liking, so he decided to move again and came to Merryflat the year of 1906. Mr. and Mrs. Grant had two children, John (Jack) and Clara.
Clara and Jack took their schooling in Maple Creek. Clara nursed in the Maple Creek hospital for a number of years then returned to the ranch to live with her brother, Jack.
The Grants continued to raise horses after they moved to Merryflat. They ran 800 head which they moved every fall to winter on the old Gow lease down near the Old Man on His Back. The lease consisted of twenty to twenty-five sections. When moving the horses they had a special wagon along to put any little colts in when they played out.
When they were moving their horses I well remember them often stopping in and having dinner with my family, the Wilkes family, who then lived in the Oxarart District, 20 miles north of Consul. I have one memory I shall never forget. When they moved their horses out of our yard and headed them north I went upstairs and had a look out of the window; to me it seemed like a moving sea of horses. What a beautiful sight to see! There was an old bay mare with a little colt running at her side on the right hand side of the herd.
From 1920 to 1934 Jack and a friend of his by the name of Johnny Franklin would take 50 head of broncs and the grub wagon and head out. Jack told Graham that they were draft horses and they sold them to farmers for $100 each. They went as far east as Moose Jaw then north toward Saskatoon.
The summer of 1962 Jack made a special trip to the Medicine Hat Hospital to see his friend, Johnny, who passed on shortly after.
Jack's father got a sliver in his finger while working in the garden one day. Blood poisoning set in and he passed away in Maple Creek Hospital the fall of 1924.
Jack decided to raise cows after his dad passed on. He cleaned out the horses and bought his first cows from Billy Small. He stayed with ranching right up to the year of 1958 when bad health forced him to sell out. He sold his ranch to the Graham Parsonage family, and he and Clara moved to Maple Creek. Jack passed away the fall of 1968; Clara passed away the fall of 1975.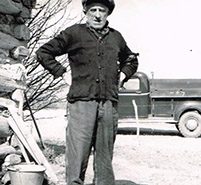 https://consulmuseum.ca/wp-content/uploads/2016/05/2-1.jpg
201
201
Susan P
https://consulmuseum.ca/wp-content/uploads/2020/08/museumlogo_header.jpg
Susan P
2016-05-04 19:39:48
2022-03-09 15:28:19
Harry Dore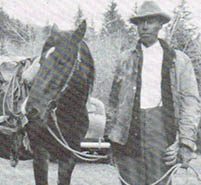 https://consulmuseum.ca/wp-content/uploads/2016/05/8-1.jpg
201
201
Susan P
https://consulmuseum.ca/wp-content/uploads/2020/08/museumlogo_header.jpg
Susan P
2016-05-04 19:42:19
2022-03-09 15:28:19
Louie Dumont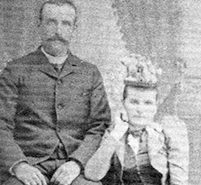 https://consulmuseum.ca/wp-content/uploads/2016/05/faulkner-1.jpg
201
201
Susan P
https://consulmuseum.ca/wp-content/uploads/2020/08/museumlogo_header.jpg
Susan P
2016-05-04 21:18:45
2022-03-09 15:28:20
W.C. & Ella Faulkner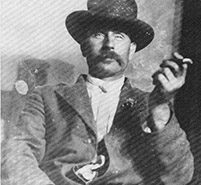 https://consulmuseum.ca/wp-content/uploads/2016/05/dennisgaff-1.jpg
201
201
Susan P
https://consulmuseum.ca/wp-content/uploads/2020/08/museumlogo_header.jpg
Susan P
2016-05-04 19:59:58
2022-03-09 15:28:20
Dennis (Bub) Gaff