George Griffiths

Source: Gerry Saville in The Forgotten Corner
We came to work for George Griffiths in the late summer of 1955 and by that time the ranch was at its maximum acreage. George was a quiet man, not given to harking back to the past; rather he would look to the future. Because of this, much of what could or should have been written of George and his achievements and hardships will never be told.
Like so many men who settled this remote corner, George never married. He didn't smoke or drink and was quite shy and gentlemanly around women. Very steady and determined he was always working and could never stop to visit for long. If he had nothing good to say about a person, he said nothing at all.
Though this was a large cattle operation, George considered it primarily a horse ranch. A mixture of Percherons, Appaloosa, and in later years, two Thoroughbred crosses, his horses had a reputation that preceded them. They convinced many a hired man to try a different occupation. For many years George trailed his horses to Elkwater, Alberta, to be bucked out at the annual rodeo. Nothing tickled him more than to see his horses get the best of the cowboys.
Tough horses that took pretty tough men to ride them, there were some good cow horses among the broncs, too. Older men who knew George said he would get bucked off and just keep getting back on until the horse finally gave it up and went to work. When we came here, George was 73 (he was born in 1882) and still riding horses that many younger men would not tackle.
"Say, fella" was a common expression with George and to the many hired men who got bucked off, "Are you going to ride him, or are you going to walk?" Many of the men chose to walk.
George liked small children and would lead them into his office for a treat of a chocolate or a hard candy. He was a live-in grandpa to our children, with all the patience in the world.
Knowing the importance of irrigation in this area, as early as 1922 George applied for licences to construct irrigation projects. He did his own surveying and levelling for years.
Over the years he had many hired men. Some of the names that come to mind are: Frank Unger, Bert Christenson, Red and Mary Asels, Fen and Doris Gernack, Joe and Harriett Wells, Phil and Helen Flaig. Other people will recall many more, I am sure.
George was an articulate letter writer, with beautiful handwriting. Self-educated, he liked to read and though not many people were aware of it, he wrote a great deal of poetry. I wonder if you could come to know George a bit by reading one of his poems.
In the blizzard of 1903 he has given us an eye-witness account of that terrible spring storm.
THE BLIZZARD OF 1903
The Stockmen all rejoice in May
For winter's worry is over
They daily ride among their herd
To look the new ones over.

But what a change took place in May
That year of nineteen hundred three
A winter blizzard swept the range
For six days snow was blowing.

The drifting snow did bury all
A winter's chilling blizzard
The colts and calves and new-born lambs
With many a ram snowed under.

A weakling ne'er survived that storm
In snowbanks deep as housetops
And many a stockman grieved his loss
The storm they long remembered.

There's many a man who lives today
Recalls that chilling blizzard,
The worst that blew, from a stockman's view,
In May of Nineteen Hundred and Three.
Although George's home ranch was located on Willow (Lodge) Creek a mile or two into Saskatchewan, he held considerable lease land in Alberta, as well as the Boe Place at Wild Horse.
When George decided to retire, we bought the ranch. He lived with us until his death in 1967 and lies buried on the land he loved so well, on his home quarter. Over the years George became much more than our employer. He was a well-loved member of our family.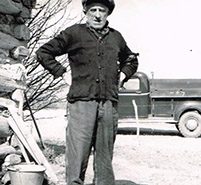 https://consulmuseum.ca/wp-content/uploads/2016/05/2-1.jpg
201
201
Susan P
https://consulmuseum.ca/wp-content/uploads/2020/08/museumlogo_header.jpg
Susan P
2016-05-04 19:39:48
2022-03-09 15:28:19
Harry Dore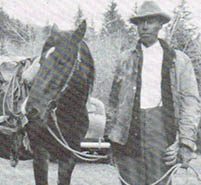 https://consulmuseum.ca/wp-content/uploads/2016/05/8-1.jpg
201
201
Susan P
https://consulmuseum.ca/wp-content/uploads/2020/08/museumlogo_header.jpg
Susan P
2016-05-04 19:42:19
2022-03-09 15:28:19
Louie Dumont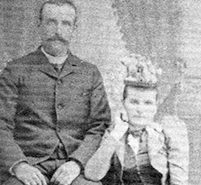 https://consulmuseum.ca/wp-content/uploads/2016/05/faulkner-1.jpg
201
201
Susan P
https://consulmuseum.ca/wp-content/uploads/2020/08/museumlogo_header.jpg
Susan P
2016-05-04 21:18:45
2022-03-09 15:28:20
W.C. & Ella Faulkner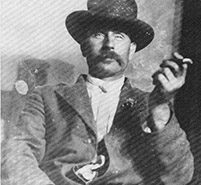 https://consulmuseum.ca/wp-content/uploads/2016/05/dennisgaff-1.jpg
201
201
Susan P
https://consulmuseum.ca/wp-content/uploads/2020/08/museumlogo_header.jpg
Susan P
2016-05-04 19:59:58
2022-03-09 15:28:20
Dennis (Bub) Gaff