Michel Oxarart
Source: Donny White
Michel Oxarart slipped into our midst from south of the border in 1883, when attention was focused on the dire situation of the First Nations and their resettlement to reservations. Oxarart established himself as the first official rancher in the Cypress Hills by taking out a 10,000-acre federal lease and setting up headquarters on Davis Lake (Cypress Lake) east of Fort Walsh. Logs salvaged from the Fort were used in the building of the ranch.
Oxarart, a Basque by nationality, was born around 1841 in the Pyrenees district of France. His early years remain obscure, immigrating around 1863 to the United States – some accounts have him arriving in Texas, others in California. Considering the Basque concentration in California at the time and his apparent connection to San Francisco in later years, it is easy to assume he arrived in California by way of the Cape. However more research needs to be conducted as to his early years. Regardless, he worked his way north as a cowboy and by 1867 was working for the large Kohrs Ranch in Montana Territory.
Michel's rise to responsibility was rapid. In 1869 he was promoted from cowboy to "foreman of the main herd" and the following year was listed as a member of the household staff. He was included as part of the Kohrs' family party attending the Centennial Exhibition in 1876 and on another occasion to San Francisco. It appears by 1878 that a mutual parting of the ways occurs, as Oxarart is found in Texas working for the Mayberry operation under William Irvine. Did Oxarart actually part company with Kohrs or was he working for him in some unknown capacity? Kohrs had many "irons in the fire".
Our next reference is the Deer Lodge paper (1883) which reports Oxarart arriving from Oregon where he had purchased 300 horses with the intent to trail them to that point. It is assumed this is the same herd which he then trailed north through Fort Macleod and Calgary running amuck with a bureaucratically-charged NWMP, who challenged him regarding the purchase/sale of some of the animals. Eventually vindicated, Oxarart continued his way west, selling his stock at the major centres until reaching Brandon, where he once again had to return to Calgary regarding the earlier incident and was again exonerated. He and his assistant, Charles Thebo, returned to Montana after this incredible journey. Replenishing his stock, he headed back to his ranch south of the Cypress Hills.
The late Professor John Bennett of Washington University St. Louis, (who carried out a forty-year study on the Great Plains) was convinced that Oxarart was a "frontman" for Conrad Kohrs in Canada, but was never able to find definitive proof. Did Kohrs finance Oxarart's operation – he certainly established himself in a big way fairly quickly. There is enough commonality between the two men for consideration in this regard – not only their close relationship from the 1860s/70s, but the trade between them in horses well into the 1880s and their shared love of Thoroughbred horse racing. We may never know if a business partnership existed, but it does leave room to speculate.
According to the late historian, Grant MacEwan, by the time Oxarart died he had become the largest producer of horses between Winnipeg and Medicine Hat. His brand was the "fleur-de-lis". As Oxarart travelled throughout the Canadian and American west on business and pleasure (race circuit), he hired a number of Metis cowboys to work the ranch under a ranch manager. One of the best known managers was John Fleming, a Minnesota man who worked his way northward finding employment with Oxarart, later establishing his own ranch on the north slope of the Cypress Hills.
In December 1887 the Calgary Tribune reports that Michel Oxarart of Maple Creek was leaving on a visit to France to purchase a number of Thoroughbred French Stallions and not expected to return until spring. It states Oxarart had not been back to France since leaving "some 34 years ago". This poses another question – when did he marry? Was he married when he immigrated to the United States, did he marry after his arrival or when he returned to France on business? We know virtually nothing about his wife, Maria, other than photographs taken while living in Canada. I "suspect" that Maria may have come from San Francisco, as the Oxararts were frequent visitors to that city. We also know that Michel had a nephew, Jules Betbeder, who had emigrated from Spain to San Francisco – the name was later changed to Bethel with family descendants still in the Maple Creek/Eastend area. Betbeder came north to work for his uncle, however we do not know if Jules was a nephew through Maria or Michel.
Oxarart was held in high esteem throughout the territories and his activities and exploits were followed by various newspapers from Calgary throughout Medicine Hat to Moose Jaw and Brandon. He was recognized as a man of means and ability. In 1895 the Territorial Government appointed him to co-chair the Territorial Exhibition in Regina. Early Regina bank manager, F.J. Hunter, recorded an amusing story of meeting Oxarart for the first time and how he mistook him for a bank robber. On cue from Hunter, a teller actually pulled a gun on Oxarart as he reached into his pocket for a letter from an American bank extending him a large line of credit. One can only assume the "backtracking" that occurred as a result of this incident and how the story took on mythical proportions over the years.
By the spring of 1896 a foreshadowing of events begin to appear – the May 7, 1896 issue of the Medicine Hat News reports that Oxarart had over 600 horses for immediate sale and it was his intention to disperse his entire herd. The following spring (April, 1897) the Medicine Hat paper reports Oxarart is in town seeking medical assistance. On May 13, 1897 the paper reports "Mr. & Mrs. Oxarart left on Monday's No.2 for California. His health is poor and the doctors have little hope of his recovery. Mrs. Stuttaford accompanied them as companion and nurse. They will likely return to France during the summer." He died in San Francisco on May 19, 1897 and was buried in that city.
The ranch was sold by his wife, Maria, to a group of English investors, who formed "The Maple Creek (Canada) Land Company" managed by D.J. Wylie, with Harry Fauquier and Nicholas Flood Davin, the infamous Member of Parliament for Western Assiniboia having signing authority in Canada. Wylie later purchased the ranch from the Company. The historic Oxarart Ranch is presently owned by Clint and Judy Brost. As to Maria Oxarart, following the probate of Michel's will in October 1897, she fades from history in much the same manner in which she arrived in the Cypress Hills – quietly and without record of her whereabouts.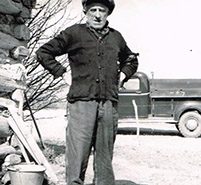 https://consulmuseum.ca/wp-content/uploads/2016/05/2-1.jpg
201
201
Susan P
https://consulmuseum.ca/wp-content/uploads/2020/08/museumlogo_header.jpg
Susan P
2016-05-04 19:39:48
2022-03-09 15:28:19
Harry Dore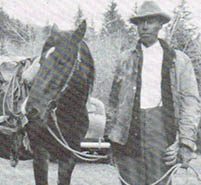 https://consulmuseum.ca/wp-content/uploads/2016/05/8-1.jpg
201
201
Susan P
https://consulmuseum.ca/wp-content/uploads/2020/08/museumlogo_header.jpg
Susan P
2016-05-04 19:42:19
2022-03-09 15:28:19
Louie Dumont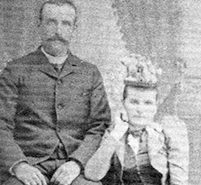 https://consulmuseum.ca/wp-content/uploads/2016/05/faulkner-1.jpg
201
201
Susan P
https://consulmuseum.ca/wp-content/uploads/2020/08/museumlogo_header.jpg
Susan P
2016-05-04 21:18:45
2022-03-09 15:28:20
W.C. & Ella Faulkner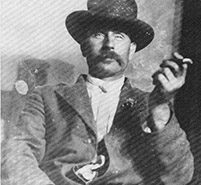 https://consulmuseum.ca/wp-content/uploads/2016/05/dennisgaff-1.jpg
201
201
Susan P
https://consulmuseum.ca/wp-content/uploads/2020/08/museumlogo_header.jpg
Susan P
2016-05-04 19:59:58
2022-03-09 15:28:20
Dennis (Bub) Gaff