Fred Parsonage – often referred to as Uncle Fred
Source: Dorothy Parsonage in From Sage to Timber
Fred Parsonage was born in 1857 at Ilford, near London, England. He came to Canada with his parents in 1862 and the family settled at Minden, Ontario in the country of Haliburton.
Fred received his early education in a log school in southern Ontario.
As a young man he worked in lumber camps and as a blaster on railroad crews. Holes would be drilled in the rocks; these holes were then filled with water which acted as a cushion for the vials of nitroglycerine used for blasting.
In 1879 Fred moved to Pilot Mound, Manitoba and took a homestead. He sold his farm in the fall of 1898 and accompanied his brother Everett and his family to Dauphin, Manitoba. They spent the winter there and in the spring of 1899 they once again loaded their belongings into two covered wagons and headed west. They arrived in Maple Creek in early August. As the animals were foot sore and winter was not too far away they decided to settle in the Cypress Hills near Fort Walsh.
Uncle Fred, as he was affectionately known, took a homestead on Battle Creek one mile south of his brother, Everett and built a house, barn and corrals. He raised a few cattle and ran a large herd of draft horses; the breed he started out with was Clydesdale, but he later expanded to include Percherons.
Fred had a coal mine on his property and supplied coal to numerous people including the Ten Mile Police Detachment. At first the coal was mined by strip mining, but then they tunnelled into the hill and brought the coal out of the mine in carts.
In winter Fred looked after his trap line along Battle Creek and hunted fur-bearing animals.
Fred was a good axe man; it was said that Fred could cut along a chalk line with a broad axe.
Fred was of a quiet and retiring nature; he never married. The young people of the area used to enjoy visiting him as his treat was usually a thick slice of delicious homemade bread and jam.
The last few years of his life were spent on Merryflat with his nephew, John Parsonage. He died at Weyburn, Saskatchewan January 26, 1941.
---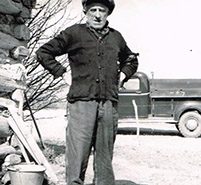 https://consulmuseum.ca/wp-content/uploads/2016/05/2-1.jpg
201
201
Susan P
https://consulmuseum.ca/wp-content/uploads/2020/08/museumlogo_header.jpg
Susan P
2016-05-04 19:39:48
2022-03-09 15:28:19
Harry Dore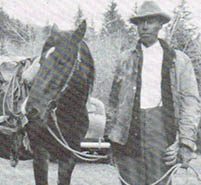 https://consulmuseum.ca/wp-content/uploads/2016/05/8-1.jpg
201
201
Susan P
https://consulmuseum.ca/wp-content/uploads/2020/08/museumlogo_header.jpg
Susan P
2016-05-04 19:42:19
2022-03-09 15:28:19
Louie Dumont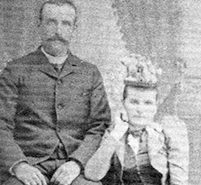 https://consulmuseum.ca/wp-content/uploads/2016/05/faulkner-1.jpg
201
201
Susan P
https://consulmuseum.ca/wp-content/uploads/2020/08/museumlogo_header.jpg
Susan P
2016-05-04 21:18:45
2022-03-09 15:28:20
W.C. & Ella Faulkner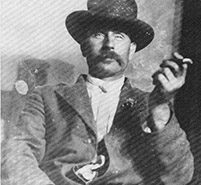 https://consulmuseum.ca/wp-content/uploads/2016/05/dennisgaff-1.jpg
201
201
Susan P
https://consulmuseum.ca/wp-content/uploads/2020/08/museumlogo_header.jpg
Susan P
2016-05-04 19:59:58
2022-03-09 15:28:20
Dennis (Bub) Gaff