Frederick Robert (Reddy) Parsonage 1891-1982
Source: Dorothy Parsonage in From Sage to Timber history book
Reddy was born May 11, 1891 at Pilot Mound, Manitoba, the second son of Everett and Bethea Parsonage. He was eight years old in the spring of 1899 when his family packed their belongings into two covered wagons and headed west from Dauphin, Manitoba for Pincher Creek, Alberta. Because the cattle were foot sore and it was already August when they arrived at Maple Creek they decided to spend the winter south of Maple Creek in the Cypress Hills near Fort Walsh. The country with its abundance of grass, wildlife, water and rolling hills appealed to Everett. He felt this was the ideal country to raise his family and decided to settle permanently four miles south of Fort Walsh on Battle Creek.
For several summers John, Alex, and ten-year-old Reddy, along with two collie dogs and a cat, herded bulls in the Egg Lake area for neighbors. Sometimes there were as many as 200 bulls. They lived in tents and cooked their meals on an open fire. Eggs for breakfast were no problem as they gathered fresh eggs daily from coot and duck nests. One egg was marked and left in a nest to encourage the birds to keep laying in the same nest and to serve as a reminder that the marked egg was not fresh. Weeks went by without the boys seeing an adult.
In 1912 Reddy took a homestead on Merryflat. During the years 1919-1926 Reddy rode on the horse roundups. In the fall when all the fall work was finished the farmers would turn loose all their work horses to fend for themselves for the winter. They were gathered before May 1st, in time for spring work. There were as many as 10,000 horses scattered south to Montana, east to Robsart and the Old Man on His Back, and west to the Alberta border. 1925 was a very short grass year and that winter was a winter of heavy snow making it very difficult for the horses to find feed. They pawed through the snow and ate mustard that was poisonous. As a result many horses died. Reddy rode for days, bringing small bunches home in an effort to save as many as possible. This disaster ended the practice of turning horses loose for the winter. The farmers in the south country used to say that when the first snows came it seemed to "snow horses".
For some years Reddy kept greyhounds to run coyotes. With one pack bought from George Guenther he travelled as far as 25 miles a day and would get as many as six or seven coyotes. He always had well-trained cattle dogs which he trained himself.
Reddy was well known through the years for his horses and his horsemanship. Reddy claimed that the best horses he ever rode were Jerry, a part bred Clyde who was "as tough as nails" and a horse named Half Moon. Half Moon was broke when he was nine years old and two or three years later someone stole him. When Reddy rode Half Moon to hunt coyotes he never opened a gate; he would put his jacket on the top wire of the fence, jump the horse over the fence, put his jacket back on and continue the chase.
In earlier years Reddy raised Irish Hunters and Thoroughbreds, but in the 1950s changed to Appaloosas. In the late 1950s his mares were in great demand by American buyers. They would come with suitcases of cash and stay for two weeks dealing on horses. When the RCMP started their remount station at Fort Walsh in 1942 they rented a thoroughbred stallion named Johnson from Reddy. Many of the first RCMP horses were descendants of this stallion.
Reddy enjoyed attending horse shows and for 40 years gathered quite a collection of ribbons and trophies. One horse named Jessie won him many barrel racing prizes. On the day of a horse show in Maple Creek Reddy would gather his horses before daylight and ride to Maple Creek, prepare his horses for the show, compete and then ride back home. He lived for these shows and enjoyed the competitions and the friendly socializing.
Reddy lived and worked at various ranches around the Cypress Hills country including the Whitney Place, Marshall Place and Shepherd Place. He finally settled on Merryflat and always considered it home.
By 1962 Reddy and his brother, John, were ready to retire. They sold the land and cattle to Skimp and Bill, John's sons. Reddy continued to live in his log house and John and Grace retired to Maple Creek. Skimp and his wife, Dorothy, built a house and lived in the same yard as Reddy. [Bill and his wife, Frances, lived further south along Battle Creek].
Reddy's bachelor house was always open to friends and neighbours, young and old. His fried potatoes were a favorite dish for many a meal. He was especially fond of children and would let them run wild in his house. They rode trikes around his table and ate all of his dried fruit and cookies. In Reddy's eyes children could do no wrong. Many children stayed at his home so they could attend Merryflat School.
His last 12 winters were spent living in Maple Creek at John and Grace's home. He spent many hours at the skating rink watching the young hockey players and figure skaters. Summers were spent on Merryflat.
Reddy passed away July 14, 1982. Mounted pallbearers led his funeral procession followed by Skimp's son, Don, leading Reddy's horse with the empty saddle [and boots turned backward in the stirrups] in the tradition of the old west.
Note:  In this year of 2016 Skimp and Dorothy's son, Don and his family, own and operate the ranch, Merryflat Ranching Company.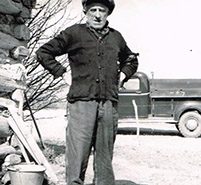 https://consulmuseum.ca/wp-content/uploads/2016/05/2-1.jpg
201
201
Susan P
https://consulmuseum.ca/wp-content/uploads/2020/08/museumlogo_header.jpg
Susan P
2016-05-04 19:39:48
2022-03-09 15:28:19
Harry Dore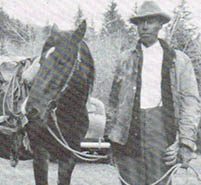 https://consulmuseum.ca/wp-content/uploads/2016/05/8-1.jpg
201
201
Susan P
https://consulmuseum.ca/wp-content/uploads/2020/08/museumlogo_header.jpg
Susan P
2016-05-04 19:42:19
2022-03-09 15:28:19
Louie Dumont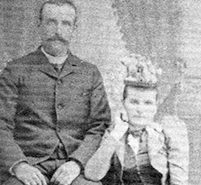 https://consulmuseum.ca/wp-content/uploads/2016/05/faulkner-1.jpg
201
201
Susan P
https://consulmuseum.ca/wp-content/uploads/2020/08/museumlogo_header.jpg
Susan P
2016-05-04 21:18:45
2022-03-09 15:28:20
W.C. & Ella Faulkner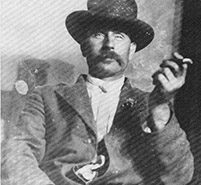 https://consulmuseum.ca/wp-content/uploads/2016/05/dennisgaff-1.jpg
201
201
Susan P
https://consulmuseum.ca/wp-content/uploads/2020/08/museumlogo_header.jpg
Susan P
2016-05-04 19:59:58
2022-03-09 15:28:20
Dennis (Bub) Gaff