Everett John Parsonage 1884-1970
Source: Dorothy Parsonage in From Sage to Timber history book

John, eldest son of Everett and Bethea Parsonage, was born on the farm at Pilot Mound, Manitoba in 1884. He came to the Cypress Hills with his parents, Uncle Fred and siblings in 1899 where they settled along Battle Creek four miles south of Fort Walsh.
He lived at home and also worked several winters for Wood and Anderson at their ranch at the old Fort Walsh site. He also rode on round-ups in the early years of open grazing. In the early years John, along with his brother's Reddy and Alex, spent many summers herding ranchers' bulls in the Egg Lake area; there would sometimes be as many as 200 bulls in their care.
In 1912 John, along with his brothers, Reddy and Alex, took up homesteads on Merryflat and worked together in partnership. Alex joined the Army in 1914 and was killed overseas in 1916.
John was a mail carrier for six years; he carried mail from Battle Creek, Coulee and Cypress Post Offices to Maple Creek on Friday and returned the next day dropping off mail on his return home.
Belle, the boys' sister, kept house for them for some time. They bought the Tom Whitney Ranch in the spring of 1919 and John and Grace (Delves)
who were married in July made it their first home.
In the spring of 1921 they moved back to Merryflat and Reddy and sister Bertha lived at the Whitney Place until that fall when Tom Whitney moved back.
In the following years they rented the Shepherd Place and the Marshall Place. Reddy lived on these places and with the help of hired men, did all the work.
John lived on the home place; he was a talented blacksmith and farrier. He sharpened plowshares for many neighbors and shod many horses in the area.
One year John had a mare and colt at Walter Boyd's. The mare died so John drove his car there and loaded the colt in it. By the time he arrived home the colt had kicked out all the windows of his car.
Grace and John bought the Worthy Place south of Consul in 1940 and lived there for 12 years. By this time they had five children: Margaret (Kennedy) 1921; Jack 1923; Bill 1929; Alec (Skimp) 1933; Alice 1937. Alice died in 1945 from encephalitis.
In the summer of 1952 John and Grace sold the Worthy Place to their son, Jack and his wife, Phyllis, and bought the Cashmore Place west of Maple Creek; they lived there for 11 years.  John was an adventurous person. He liked to travel long distances sightseeing, visiting and in earlier years trading horses. When John's health began to fail they sold their ranch to Bud Anderson in 1963 and retired to Maple Creek. It was there that John died in 1970 and Grace in 1984.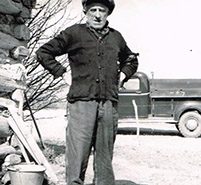 https://consulmuseum.ca/wp-content/uploads/2016/05/2-1.jpg
201
201
Susan P
https://consulmuseum.ca/wp-content/uploads/2020/08/museumlogo_header.jpg
Susan P
2016-05-04 19:39:48
2022-03-09 15:28:19
Harry Dore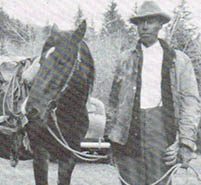 https://consulmuseum.ca/wp-content/uploads/2016/05/8-1.jpg
201
201
Susan P
https://consulmuseum.ca/wp-content/uploads/2020/08/museumlogo_header.jpg
Susan P
2016-05-04 19:42:19
2022-03-09 15:28:19
Louie Dumont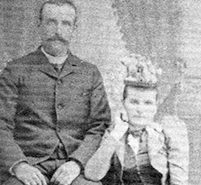 https://consulmuseum.ca/wp-content/uploads/2016/05/faulkner-1.jpg
201
201
Susan P
https://consulmuseum.ca/wp-content/uploads/2020/08/museumlogo_header.jpg
Susan P
2016-05-04 21:18:45
2022-03-09 15:28:20
W.C. & Ella Faulkner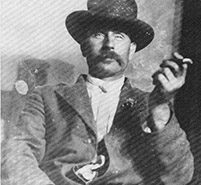 https://consulmuseum.ca/wp-content/uploads/2016/05/dennisgaff-1.jpg
201
201
Susan P
https://consulmuseum.ca/wp-content/uploads/2020/08/museumlogo_header.jpg
Susan P
2016-05-04 19:59:58
2022-03-09 15:28:20
Dennis (Bub) Gaff