A.B. Jahn

Source: Reprinted from old news clipping from unknown paper.
A.B. Jahn, a horse rancher of Govenlock, Saskatchewan, sets it down as his first article of faith that breeders should use bred sires only and stick to one breed.
Coming to Western Canada from Belgium in 1882 he settled down on his present location with 355 horses in 1902. Since that time he has used a continuous succession of stallions of his native Belgian breed, several of them imported. Nearly every farmer in the southwest had one or more of the offspring as they were good, intelligent work horses.
"The cheapest horse I ever bought," says Mr. Jahn, "was the one I paid the most money for, my first horse. I paid $2000 for him, a lot of money in 1902, but his colts were in great demand and sold at a premium."
Mr. Jahn runs his horses on the range summer and winter, never feeding them hay or grain yet he has produced a large number of 1600 pound horses. He sold a team raised entirely on grass which attained a weight of 1890 and 1910 pounds respectively upon leaving his hands. After grain feeding in the hands of their new owner they both got past the ton mark.
The Jahn herd now numbers over 500 head although he has been selling continuously in good years and bad. He is proud of the fact that one firm of railway contractors in Saskatchewan has in service at the present time 57 horses bred and raised by him.
Speaking of shipping horses, Mr. Jahn confirmed the evidence of C. Rice-Jones who warned the Stock Growers Convention about the heavy shrinkage of grass fed horses in transit. Mr. Jahn shipped one horse directly off the range which lost 175 pounds in seven days.
He was a bachelor and a very good bread maker, even if not the most sanitary. In his later years he was well known for the assistance he gave to the Govenlock and Zentner Schools. Indeed, he was generous to a fault and the community lost a much respected citizen when he died in October, 1927, at the Lindner Bros. Ranch at Ten Mile.
After his death the ranch was owned by a nephew, Max Jahn, who had come from Germany a few years previously. Max ran the ranch for several years then sold it to Roy Paterson. The ranch is located on Sec.6-4-29 W3rd. Today, in 2016, this ranch is owned and operated by Middlefork Ranching Co., Rick and Jean Jones.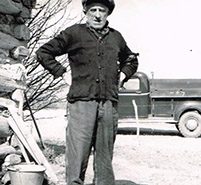 https://consulmuseum.ca/wp-content/uploads/2016/05/2-1.jpg
201
201
Susan P
https://consulmuseum.ca/wp-content/uploads/2020/08/museumlogo_header.jpg
Susan P
2016-05-04 19:39:48
2022-03-09 15:28:19
Harry Dore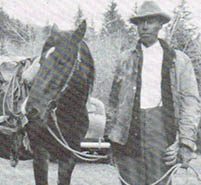 https://consulmuseum.ca/wp-content/uploads/2016/05/8-1.jpg
201
201
Susan P
https://consulmuseum.ca/wp-content/uploads/2020/08/museumlogo_header.jpg
Susan P
2016-05-04 19:42:19
2022-03-09 15:28:19
Louie Dumont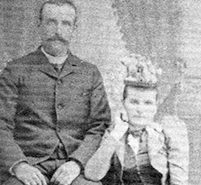 https://consulmuseum.ca/wp-content/uploads/2016/05/faulkner-1.jpg
201
201
Susan P
https://consulmuseum.ca/wp-content/uploads/2020/08/museumlogo_header.jpg
Susan P
2016-05-04 21:18:45
2022-03-09 15:28:20
W.C. & Ella Faulkner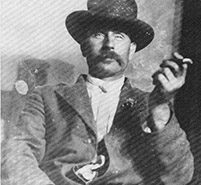 https://consulmuseum.ca/wp-content/uploads/2016/05/dennisgaff-1.jpg
201
201
Susan P
https://consulmuseum.ca/wp-content/uploads/2020/08/museumlogo_header.jpg
Susan P
2016-05-04 19:59:58
2022-03-09 15:28:20
Dennis (Bub) Gaff