David & Mrs. (Lil) Hutton
Part 1
Source: Arthur Mull in Merryflat and District history book, 1968

I know little of these people's young days, but I knew Mrs. Hutton in England before she was married.
Dave was a minister's son and ran away from home to go to sea while a boy. He often spoke of the deepwater sailing ships on which he sailed to such places as Australia, Africa and Hong Kong. These ships were large three- and four-masters, and he said that it was a pretty rugged life and that he often felt the rope's end around his bottom. He sailed around Cape Horn where the wind never stops blowing and also around Cape of Good Hope on the way to India. This was years before the Suez Canal was built. On one trip he said it took them 43 days from Liverpool, England, to sail to Halifax, Nova Scotia, on account of adverse winds and bad luck. I remember him telling that once, in a particularly bad storm, they lost a man overboard and as it took some while to heave to, they lost track of where the man would be and on lowering the boat two more men were lost. Those were really tough days.
Dave located on the Bench between Battle Creek and Six Mile Coulee in township 7, range 6, W3rd. About 1907 Miss Lee (Lil) came to join him from England and they were married. Mrs. Hutton came from a beautiful home in England near London and how she ever got used to life here is nothing short of marvelous as all Dave had when she arrived was a partly built shack comprising four log walls with no doors or windows and no roof. He had a tent set up inside which did break the wind, but nothing else. It is a wonder it did not break her heart. He also had one team of horses at that time. But like most settlers they made good and developed a nice, but small ranch which he eventually sold.
I remember Dave always gave all of his animals, including chickens, an extra ration of feed at Christmas time. He was a most generous man, albeit he had quite a bad temper at times and swore plenty, a bad habit for a preacher's son.
Mrs. Hutton had a trick I did not go for. She used to kill a prairie chicken (of which there were plenty in those days) and hang it up by its head until it got what she called "ripe" before plucking, dressing and cooking it. That is quite the thing in England, as they say it tastes more gamey. I imagine it does! My life, however, was enriched by knowing them.
They retired to White Rock, BC, where Mrs. Hutton died. Dave followed in a very short time.
Part 2 – David and Mrs. (Lil) Hutton
Source:  Clarence Cochrane in the Merryflat and District history book, 1968
Mr. and Mrs. Dave Hutton, affectionately known as Dave and Lassie, had a ranch on the hill west of where Sam Demchenko lives now.1 Fred Kroll had a ranch joining him on the west.
In 1920 Dave bought the Kroll Place and Fred left these parts. A few years later Dave bought the Monroe Place as it joined him on the east in the Six Mile Coulee. There they made their home.
He sold his ranch to Art Nuttall with the exception of the section where they were living. They lived semi-retired with a small flock of sheep for a few years and then sold to Frank Krupp.
1. In 2016 this is where Cecil and Barbi-Rose Weisgerber live.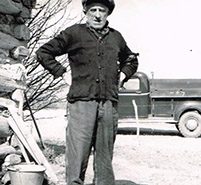 https://consulmuseum.ca/wp-content/uploads/2016/05/2-1.jpg
201
201
Susan P
https://consulmuseum.ca/wp-content/uploads/2020/08/museumlogo_header.jpg
Susan P
2016-05-04 19:39:48
2022-03-09 15:28:19
Harry Dore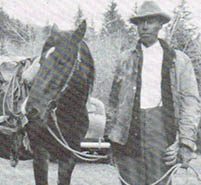 https://consulmuseum.ca/wp-content/uploads/2016/05/8-1.jpg
201
201
Susan P
https://consulmuseum.ca/wp-content/uploads/2020/08/museumlogo_header.jpg
Susan P
2016-05-04 19:42:19
2022-03-09 15:28:19
Louie Dumont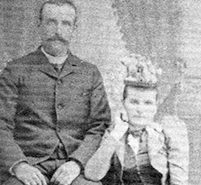 https://consulmuseum.ca/wp-content/uploads/2016/05/faulkner-1.jpg
201
201
Susan P
https://consulmuseum.ca/wp-content/uploads/2020/08/museumlogo_header.jpg
Susan P
2016-05-04 21:18:45
2022-03-09 15:28:20
W.C. & Ella Faulkner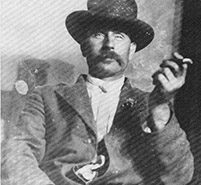 https://consulmuseum.ca/wp-content/uploads/2016/05/dennisgaff-1.jpg
201
201
Susan P
https://consulmuseum.ca/wp-content/uploads/2020/08/museumlogo_header.jpg
Susan P
2016-05-04 19:59:58
2022-03-09 15:28:20
Dennis (Bub) Gaff