The Huntleys

Source:  Information was provided by C.T. Yarshenko via personal communication.
Marshall Huntley (born 1857) arrived in the Cypress Hills, circa 1902.  By early 1903, he and his brother Joseph (born 1859) had settled on the SE 1/4-31-7-29 W3rd, where the Cypress Hills West Block Ranger Station is located today.  They ran horses and cattle, and developed some simple irrigation works (presumably to grow fodder for their livestock, and gardens for themselves).
They were joined a short time later by a third brother, Abraham Lincoln (1864-1948) and his family.  He and his wife, Mary Louisa, and their children located close to his two brothers and began to build up a ranching operation.  Abraham and his family had spent considerable time around Bridger, MT, before coming to the Cypress Hills, but all of the Huntley brothers hailed originally from Oregon.
The Huntleys suffered the same hardships and ill luck which so many people have suffered.  Although Abraham and Mary could celebrate the birth of a son in 1907, they had to mourn the loss of an older son, Jessie Lynn (1898-1904), just a few years earlier.  Jessie was buried at the nearby Fort Walsh cemetery.
Joseph, who had arranged a rental agreement on a herd of horses with another man, suffered considerable loss when his business partner became dissatisfied with the arrangement.  The subsequent lawsuit left Joseph out of stock, and out of pocket.  Despite being granted extensions to pay his commitments to the Department of the Interior, Lands Branch, he found himself unable to carry on in the Cypress Hills, telling his Dominion government creditor he had "had nothing but bad luck since coming to the country".  Joseph sold out his interests to the Nolan brothers, and the entire Huntley family returned to the U.S. circa 1909.
The Dominion government began to establish the Dominion Forest and Grazing Reserve #2 a few years later, and this reserve, now comprising the Cypress Hills Interprovincial Park, the Birch and Maple Grazing Reserve, and Piapot and Bear Grazing Reserve, together with additional units on the Alberta side of the border, eventually encompassed many of the properties of some of the Cypress Hills' earliest families.  The government took up land which had been abandoned, traded land outside the proposed reserve with those still resident upon land within the proposed reserve, purchased some land, and forced others who had no formal arrangement with the government off land where they were considered by the government to be squatting.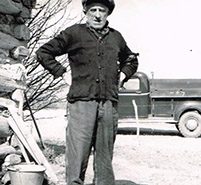 https://consulmuseum.ca/wp-content/uploads/2016/05/2-1.jpg
201
201
Susan P
https://consulmuseum.ca/wp-content/uploads/2020/08/museumlogo_header.jpg
Susan P
2016-05-04 19:39:48
2022-03-09 15:28:19
Harry Dore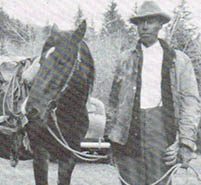 https://consulmuseum.ca/wp-content/uploads/2016/05/8-1.jpg
201
201
Susan P
https://consulmuseum.ca/wp-content/uploads/2020/08/museumlogo_header.jpg
Susan P
2016-05-04 19:42:19
2022-03-09 15:28:19
Louie Dumont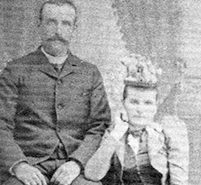 https://consulmuseum.ca/wp-content/uploads/2016/05/faulkner-1.jpg
201
201
Susan P
https://consulmuseum.ca/wp-content/uploads/2020/08/museumlogo_header.jpg
Susan P
2016-05-04 21:18:45
2022-03-09 15:28:20
W.C. & Ella Faulkner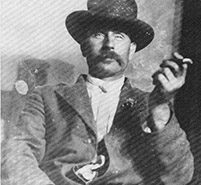 https://consulmuseum.ca/wp-content/uploads/2016/05/dennisgaff-1.jpg
201
201
Susan P
https://consulmuseum.ca/wp-content/uploads/2020/08/museumlogo_header.jpg
Susan P
2016-05-04 19:59:58
2022-03-09 15:28:20
Dennis (Bub) Gaff