Henry & Lorana Marshall
Source: Sadie Henley in Merryflat and District History Book, 1968
During the summer of 1895, my father and mother, Henry and Lorana Marshall, came up from Malta, Montana, and squatted on a place near Egg Lake which is about seven miles northwest of the Ten Mile School. They brought with them their two children, Myron and Marian. There weren't many people living on Battle Creek at that time. The only two ranches that I can remember were two bachelors Wood and [Wellington] Anderson at old Fort Walsh site and the Lindners.
After looking the country over carefully they went back to Montana for the winter. In the spring they came back, bringing their stock with them and squatted on the place now occupied by Leo and Nile Gaff and made their permanent home. They squatted because at that time the land had not been surveyed and also it was the Northwest Territories. At that time there were no fences and there was lots of good grazing for stock.
Their first home was made of logs and was built out in the middle of the flat. Then after my father took out the first water right on Battle Creek they moved the buildings across the irrigation ditch to about north of where Leo Gaff now lives.
The Ten Mile Police Barracks was located just north of the bridge on Battle Creek and, of course, it was there when my parents came. The Police performed many services for these early settlers and not the least of these was acting as mail carriers until a regular mail service was established.
After coming to Canada five more children were born to my parents: myself, Sadie Henley, Nellie, Harry, Frank and Charlie. We children had to watch the cattle during the summer as there were no fences to keep them from straying. We didn't get to town (Maple Creek) very often as it was a long trip with a team and lumber wagon. My mother used to go to town twice a year for groceries and other supplies and lucky were the ones who went with her! It sure was a big event in our lives!
The Gaffs came out here about the same time or just after my parents.
Gradually more people came into the country: the Parsonages, McRaes, two McKinnon families on Middle Fork, Jack MacKinnon near Fort Walsh, John, Greg, Mike Lynch and Hammond on Middle Fork. Then below Gaffs were the Henrys, Wilsons, Gilchrists, Jim McKinnon, Pete Reesor, Ed Thomas, Earl Nash, and the Badgers.
Sometime shortly before 1902, the first school, a log building, was built. It was located very close to the present Ten Mile School.
By the time my father died in 1909 he had built up a very good herd of cattle and horses. Shortly after my father's death we moved to Medicine Hat and then came back to the ranch in the spring of 1911 and again took over the running of the ranch with my older brother, Myron, in charge.
Myron enlisted in the army in 1918 and then my husband and I looked after the place until 1925 when it was sold to Bub Gaff and we moved to Govenlock.
I often look back to the days when we were growing up on the ranch and while we had very few of the comforts that we have now, still we did have lots of good times. We thought nothing of riding a saddle horse 20 or 30 miles to a dance, dancing all night until daylight the next morning and then the long ride home. Sure wish I could do it now.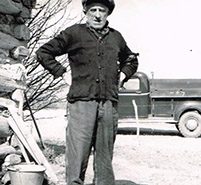 https://consulmuseum.ca/wp-content/uploads/2016/05/2-1.jpg
201
201
Susan P
https://consulmuseum.ca/wp-content/uploads/2020/08/museumlogo_header.jpg
Susan P
2016-05-04 19:39:48
2022-03-09 15:28:19
Harry Dore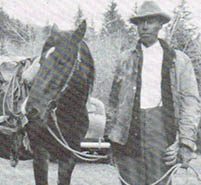 https://consulmuseum.ca/wp-content/uploads/2016/05/8-1.jpg
201
201
Susan P
https://consulmuseum.ca/wp-content/uploads/2020/08/museumlogo_header.jpg
Susan P
2016-05-04 19:42:19
2022-03-09 15:28:19
Louie Dumont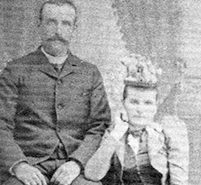 https://consulmuseum.ca/wp-content/uploads/2016/05/faulkner-1.jpg
201
201
Susan P
https://consulmuseum.ca/wp-content/uploads/2020/08/museumlogo_header.jpg
Susan P
2016-05-04 21:18:45
2022-03-09 15:28:20
W.C. & Ella Faulkner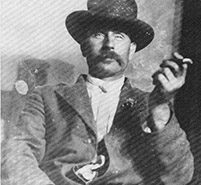 https://consulmuseum.ca/wp-content/uploads/2016/05/dennisgaff-1.jpg
201
201
Susan P
https://consulmuseum.ca/wp-content/uploads/2020/08/museumlogo_header.jpg
Susan P
2016-05-04 19:59:58
2022-03-09 15:28:20
Dennis (Bub) Gaff