J.A. Ross Family
Source: Dolly (Ross) Williamson (1908-1979) in  Merryflat and District history book , 1968
Joseph Alexander Ross was born in Scotland and was one of a family of 12, six husky boys and six girls. When they came to Canada they spread out in all directions, one to the Yukon to get rich in the gold fields, Paul to Minneapolis where he became a doctor and the rest across the western states to try their luck in the fruit growing business.
J. A. settled on the Red River in Manitoba and married Emily Jane Todd, an Irish lass, a teacher fluent in several languages.
In 1882 a son, Morris was born at Carman, Manitoba and a girl, Mary Josephine, was born in 1889.
In the spring of 1894 the Red River went on the rampage and flooded the families out who lived near it. The women, Mrs. Ross and Mrs. McRae, came out in boats and rafts while the men got their belongings and stock out the best way they could.
J.A. said that if the Red flooded once it could do it again so he headed west for the Porcupine Hills. All of their belongings were piled high on the wagon. On top were an arm chair and rocker for Mrs. Ross and J.A. as both had leg injuries so could not make camp without chairs.
Among their many troubles in driving west with their herd of cattle and horses was to find water at camping time. One well remembered time was their first experience with alkali. The menace had been unknown in the east so when they hit Johnston Lake, if it hadn't been for a cowboy leaving his cattle and riding out to warn them ,their drive would have had a disastrous ending. Morris said it was one real fight to keep the cattle out of it and get them past as they were thirsty and could smell the water. Later, Morris rode back and saw the lake shore and bed was covered with the bones of buffalo that had been poisoned.
J.A. and family arrived at old Fort Walsh that fall and decided to winter with their old friends from the east, the Wood and Anderson families. Later he gave up the idea of going further west and settled near the old Massacre Grounds. A coulee is named after the family in that district.
A short time later J.A. moved to a location west of the Ten Mile NWMP Post. He set up the first irrigation system on Battle Creek. In later years George Paterson, another old timer, enlarged it and it is in use today.
At first there was no school so Mrs. Ross had to teach Morris and Mary at home. Later, Ten Mile School was built. One of its first teachers was Jess Marshall.
Horses in those days were the big money deal so J.A. went to Montana to the Bears Paw Mountains and bought himself a herd. Son Morris and Bill McRae had themselves a time gathering and trailing them home and taking the rough edges off them.
With these horses J.A. turned trader. Back to the east he went with the horses he had purchased – to Portage La Prairie – leaving Morris in the Battle Creek district. J.A. and Morris purchased several horses in Montana and Bill helped with each drive. These horses were broken to harness and sold in the east. On one of their last trips, with nearly 400 head to handle, Morris had the misfortune of having his horse fall on him, breaking his leg. Bill took him to the Army Hospital near Havre, Montana. When Morris was able to move about on crutches they gathered the horses again and finished the drive.
After many years J.A. purchased a place in Orange, California and to prove he knew as much about fruit farming as his brothers, turned it into an orchard. When it was a paying unit he sold out and retired in Medicine Hat, Alberta where old timers talked his language. His car could be seen at least once a week parked out on a country road with J.A. gazing at the cattle and horses nearby. J.A. passed away at the age of 75 at his Medicine Hat home. His wife, Emily, had predeceased him in 1914 at Mary's home in Calgary.
Walter Morris, known as Morris, went to school in Maple Creek with Hugh Dixon before 1900. After hunting with his hounds, busting a few broncs and, along with Bill McRae, spending summers herding cattle and shaking snakes out of their beds for a few bucks he proceeded to build himself a horse ranch on Middle Fork Creek.
Windy Simpson was the local postmaster and storekeeper where most of the district went to call and pull pranks on him. The Ten Mile Police Post was there with Hugh Thomas, Purvis, Harry, Willis, to name a few, stationed there.
Morris married Myra DeOlive Gaff on January 24, 1907 in Maple Creek. Their daughter, Emily DeOlive (known as Doll) was born July 26th 1908 in Maple Creek.  They lived on the Middlefork Ranch. Morris shipped horses for use in World War 1; Bill Gudguel and Myron Marshall broke them. In 1918 he sold out to Harmon and Henderson and moved his horses to Kearney Brothers north of Ravenscrag, then to the old Gow lease on the US border.
After selling his final bunch of horses [Doll says he had 600 head when he sold out] he moved to the Eastend district, then tried city life for a while at Medicine Hat, but returned to Eastend where he could find some of his old cronies to swap yarns with and to be near his daughter. He liked his pool games, too.
Morris passed away May 14, 1940 in the Medicine Hat Hospital.
Myra's dad, Dad Gaff, was an old timer so she saw some of the old days, too, coming from Kansas in covered wagons, arriving in the Battle Creek district two years after the Ross family. There being only one boy, Bub, in the family Myra and her sister, Ma Pat (Frances Paterson) had to dust off their own broncs and help with the outside work. In those days the wolves helped to entertain them, but they returned the compliment by trapping and shooting themselves a few.
Myra is nearing her 81st birthday, acts younger than her age and resides at High River, Alberta. When she wants to corral her family now, instead of putting her finger on her six gun trigger she reaches for the telephone , demands action and gets it, too.
Morris and Myra had a daughter, born July 26th, 1908 in a nursing home ran by Mrs. Jarvis. The building had been used for a school years before and Morris had attended school there. Their daughter was named Emily De Olive, but is known by many names. She was called Doll by her grandmother Emily, Shorty or Shorts by Phil Lindner; Grandpa J.A. called her Half Pint Chipmunk as she was such a saucy little runt and always chattering. Well she is still chattering, but the half pint has spread into a full gallon size. Her dad called her Kid and today at Eastend that is her name among the older set and Dolly among the younger set. There is one name she remembers most and that is Smithie, given to her by Billy Lindner for her many freckles, like Smithie of the funnies. Billy packed many a funny paper for her in his saddle bags to read to her and compare freckles. Also she had the longest cats in the country from the way he stretched them. When one of the Lindners came to call it was always like Santa Claus as their pockets would be full of goodies, especially if they had been to Havre, Montana; the taste of maple sugar candy will never be forgotten.
Doll's first school was Merryflat where with her cousins, Jim and Roy Paterson, they rented a sod house close to the school for the summer. Maggie MacKinnon was her first teacher. Next school was at Govenlock. Some of her classmates were Dorothy and Howard Buchanan, Mae Lester, Pearl Boon, Mildred and Fred Williamson, Fred Coulson and the Grant children. From there the family moved to Ravenscrag and then to Eastend where Doll attended high school. However, she received most of her education during her holidays at her aunt Eva Gaff's ranch, where teachers like Dave Balfour, Roy Paterson and Lloyd Montour, with the help of the Anderson boys, she received her degree in chicken raising , how to make roosters hatch out sparrows and turkey eggs bring forth curlews. She and her cousin, Pearl Boon, had quite a success with her poultry.
On December 16, 1938 Doll married Fred Williamson and they started ranching on the old Richardson lease by Claydon, Saskatchewan, once owned by Richardson, an old timer of Oxarat and Battle Creek districts. They later expanded their holdings by purchasing the Malcom Morrison ranch south of Eastend. This was the old T Down hay flats and winter camp in the 1800s.
With lease rules getting tough on horses Fred disposed of the herd, trailing over 500 head from the lease to Swift Current. Believe me it was like the old Wild West days! First Fred hired Bengston with his plane to scout out the route and find water and camp sites. Then came the roundup of the lease. The horses knew the lay of the land better than the cowboys so gave them a dirty run. Got the horses all out once and they broke back so they had to do it all over again. On the second try about 100 broke back. Fred said," To…. with them, let's go before we lose the rest."
When they were a few miles from Eastend an early blizzard caught them in the night and sure scattered the horses; they had to gather them up again. After that it was a steady go for six days. The riders sure earned their beans, riders being Fred and Peter Butala, Ron Bascom, Bob and Norman Wills, Glen Duke. Gilbert Kopitoski was truck driver with camp gear, Bullet Weins was the cook with his truck and Garth Bascom was youngest rider, about 13 years old; he was the toughest of the lot. When the herd got near Swift Current every man and his dog came to view them, pictures were taken by the CJFB TV and the night they arrived at Swift Current the crew was given a banquet and a viewing of the TV pictures.
Next came trucking home their saddle horses and back to the lease after the ones that got away. They never did get them all out of the lease. Fred and Doll's daughter, Marlene, was real sorry she could not make the drive; her dad thought it would be too rough for a girl. Fred said there was many a time he wished she was along as she knew how to handle horses.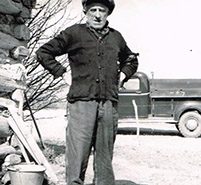 https://consulmuseum.ca/wp-content/uploads/2016/05/2-1.jpg
201
201
Susan P
https://consulmuseum.ca/wp-content/uploads/2020/08/museumlogo_header.jpg
Susan P
2016-05-04 19:39:48
2022-03-09 15:28:19
Harry Dore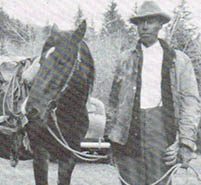 https://consulmuseum.ca/wp-content/uploads/2016/05/8-1.jpg
201
201
Susan P
https://consulmuseum.ca/wp-content/uploads/2020/08/museumlogo_header.jpg
Susan P
2016-05-04 19:42:19
2022-03-09 15:28:19
Louie Dumont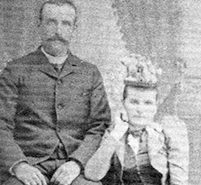 https://consulmuseum.ca/wp-content/uploads/2016/05/faulkner-1.jpg
201
201
Susan P
https://consulmuseum.ca/wp-content/uploads/2020/08/museumlogo_header.jpg
Susan P
2016-05-04 21:18:45
2022-03-09 15:28:20
W.C. & Ella Faulkner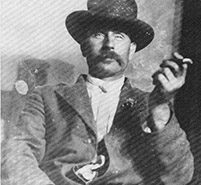 https://consulmuseum.ca/wp-content/uploads/2016/05/dennisgaff-1.jpg
201
201
Susan P
https://consulmuseum.ca/wp-content/uploads/2020/08/museumlogo_header.jpg
Susan P
2016-05-04 19:59:58
2022-03-09 15:28:20
Dennis (Bub) Gaff