Richardson Ranch
Source: J. Jones personal communication with Cliff Smith, 2016. (Cliff lives where Gilchrists originally homesteaded)
The Ranch headquarters was situated where Maggie Wenzel now lives, 2016, (NE12-5-27 W3rd), north of Cliff Smiths (NE35-4-27 W3rd).  To the south and on the west side of the grid Richardsons had a Store and Post Office before Consul came into existence.
The Richardsons and Gilchrists built the irrigation north of Cliff's in 1910.  It was very hard work and because they were not able to go over a hill they dug the ditch along the side of the hill along Battle Creek.  Of course, when Battle Creek flooded several times, their ditch was lost and it wasn't until the P.F.R.A took over the irrigation in 1944 or 1945 that the ditch was made through the hill and the irrigation project in Consul was improved immensely.
Richardsons owned the land from Smith's to Roland Agar's. Richardsons irrigated on the East side of the grid and Gilchrists irrigated on the West side just north of Cliff's.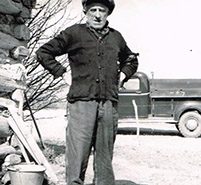 https://consulmuseum.ca/wp-content/uploads/2016/05/2-1.jpg
201
201
Susan P
https://consulmuseum.ca/wp-content/uploads/2020/08/museumlogo_header.jpg
Susan P
2016-05-04 19:39:48
2022-03-09 15:28:19
Harry Dore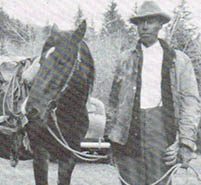 https://consulmuseum.ca/wp-content/uploads/2016/05/8-1.jpg
201
201
Susan P
https://consulmuseum.ca/wp-content/uploads/2020/08/museumlogo_header.jpg
Susan P
2016-05-04 19:42:19
2022-03-09 15:28:19
Louie Dumont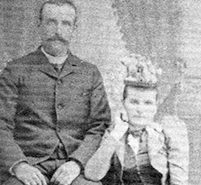 https://consulmuseum.ca/wp-content/uploads/2016/05/faulkner-1.jpg
201
201
Susan P
https://consulmuseum.ca/wp-content/uploads/2020/08/museumlogo_header.jpg
Susan P
2016-05-04 21:18:45
2022-03-09 15:28:20
W.C. & Ella Faulkner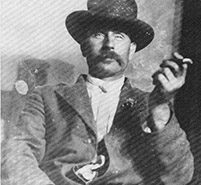 https://consulmuseum.ca/wp-content/uploads/2016/05/dennisgaff-1.jpg
201
201
Susan P
https://consulmuseum.ca/wp-content/uploads/2020/08/museumlogo_header.jpg
Susan P
2016-05-04 19:59:58
2022-03-09 15:28:20
Dennis (Bub) Gaff