The Peachey Family
Source: Ivy Calder with additions from genealogy found on the internet
It was in the year 1900 that my father, Ernest Joseph Peachey, and mother, Lillie Monica Hales, were married in Medicine Hat. My mother at that time was a nurse at the Medicine Hat Hospital and my father ranched on Plume Creek, south of Medicine Hat. Those were good days and ranching was prosperous. Later my parents also had a home in Medicine Hat where they moved for the winter.
cattle
In 1904 my father decided to go farther afield and moved to Middle Fork Ranch where he ranched until 1910. It was this year that he was hurt quite badly, having been kicked by a horse. Our hired man drove to Maple creek for Dr. Dawson. It took two days as it was a long trip for a team, but it seemed like weeks to my father who lay in pain waiting, and to my mother who nursed him. The doctor told my father that he would not be able to ride again and so he decided to leave the ranch and go into the store business. He built his first store on Neil Johnson's farm. It was a large frame building with two large rooms and living accommodation for the family upstairs. There, we children got our first experience in the store business and became a part of a series of events which were to stand out in our lives.
It was here that Neil Johnson's house caught on fire one night and Gladys came running to our place to get my father. Everyone available went and the fire was soon under control, with more damage having been done by cutting through the walls than the fire itself, was the speed at which Gladys came. Speaking of fires, the worst of all were the prairie fires which started periodically. They were no doubt caused by lightning. There were many anxious hours while the men fought the blaze and the women guarded their families. I remember once when we lived at Noah Bushett's house, a fire started and became very bad. Mother watched until the flames came close and as the only refuge was the creek which ran close by, Mother took us in the night into the water to wait until the fire was quenched and it was safe to go back. The older ones ran and Mother took the smaller ones. Ernest's main regret was the loss of one of his new shoes, which he did not have time to fasten tight and which was never found to this day.
It was that winter that Mrs. Offerman died. As she lay desperately ill, Mother nursed her and did all that she could with no medical help. Doctor Offerman was a chiropractor and was on a trip to Minot, North Dakota. He arrived home after Mother had sent a man to Maple Creek for Dr. Dawson. It was either Floyd Shivley or Ralph McKinnon who went. Mother sent a note to the doctor telling him what the symptoms were and what he should bring. Eventually he arrived and he, with Mother's help, operated as a last hope of saving her life. She was at McKinnon's house and like all homes in that country at that time, the best light was an oil lamp and the only facilities for sterilizing was a kettle on an old wood stove. These however were minor difficulties, the greatest being the lack of time. Mrs. Offerman was very ill and it was too late when treatment was administered.
The Kelvinhurst Post Office was at Lou Richardson's place and not long after my father opened his store, Mr. Richardson opened one also. In the fall of 1911 my parents bought Richardson's Store and moved our first store up there. Our new store was opened in the Richardson building and we live upstairs. Those were long stairs or so they seemed to me, for one of the most outstanding recollections I have I falling from top to bottom of them, and I can feel myself going yet and wondering how much farther to the floor below. A little later my father took over the post office as well. Our old store building was used as a pool room and barber shop. Bert Hammond was the first barber.
Father and I expect that he wished many a time that he had never seen the place. I am quite sure that I did my part to break the monotony for him. For example, the time I hid his razors and everyone hunted for them for days. I can see those razors yet, wrapped safely in that grey blanket. I can also hear the threats of what would happen if I didn't give them up. By this time I felt like the worst criminal in the west and there seemed no justice. Then there was the day that the boys threw the potato at him, all in fun, of course, but the fun turned to tragedy when they aimed too well and hit him on the side of the head. Poo man! He must have thought that we were monsters. No wonder the barber shop and pool room closed down the following year. This was life at Kelvinhurst. To me, memories of a very small child were mainly tragedies with a few small childish happening which I shall always remember and cherish.
By this time, a school was needed and the first little log schoolhouse was built in 1911. It seemed a long ways to that school. It was a mile and a half, I believe. Our first teacher was Mr Lamont. I can't remember learning anything at all. No doubt I was too small to learn a great deal or to remember if I did, but I can remember what peaceful sleeps Mr. Lamont had during school time. I can remember the bigger boys tying him to the flag pole with a lariat rope and then going off to snare gophers. How did they catch him? That was easy. Cliff got on the roof and the others called him outside. As he came out the door the rope was dropped over his head and the other boys did the rest. Other teachers followed. The ones I remember best were Mrs. Charlie Brower, Birdie Badger, Mr. Morrison and Mr. Yates. I remember Christmas concerts. They were big events and everyone went.
In 1912 the barber shop building was taken over for a bank and the Merchant's Bank opened with Mr. DeCarvel as the first manager. In 1913 he left and Mr. McNare came as bank manager and Mr. Fraser as teller. These two men had sleeping accommodation at the bank but had to go to McKinnon's for meals. For transportation McNare bought a horse and Fraser a bicycle. No doubt that was the first bicycle in that country.
In 1912 my father built and opened a branch store in what is now Robsart with Charlie Lightfoot to run it. There was a post office in connection which was called "Russthorne" Post Office after Mrs. Russell and Mrs. Thornton. This store did not prove very profitable and so in a year's time it was closed down and my father decided to move the building, but the man who owned the land on which it stood decided that as the building was on his property, it belonged to him and he would not let them move it. However, one sunny day, with teams, logs, running gear, and Mounted Police escort, the building was moved and put down on Charlie Lightfoot's homestead. Mr. Pepler and Mr. Green were the Mounties there at that time.
It was in August, 1912, that my brother, Eric, was born in Maple Creek. I remember staying with Mrs. Pollock who was a friend of Mother's from nursing days in Medicine Hat. Life was not dull at Kelvinhurst. We made our own fun. At first, we played ranch and obtained many valuable stick horses. Then we advanced to the store business. I can remember a small valley not too far from the house where we had our town. We all built houses with stick framework and sack covering for the walls. They were valuable houses for they took a lot of making. Hilda and Ernest had the store. Daisy and Roland had nice residences, but my house, though very promising, never amounted to very much. Then there was the tree house in the big maple tree down by the creek crossing. It had been an old hawks' nest before we took over and converted it to a playhouse. Boxes fastened in the branches served as cupboards, boards were arranged for seats and spikes up the trunk about a foot apart made the stairway. The creek was always our friend, though we were taught to be very careful, especially in spring. In the summer we paddled in the water and in the winter we played on the ice. I can remember going for rides with our dog pulling us on the sleigh. Mr. Richardson shot our dog (I don't know why), and we all cried. Perhaps it was because of the mess we made of his straw stacks. I remember well making tunnels through them with large spacious places we called rooms. Sometimes I would stand on guard as I was not very good at digging. We were always very resourceful children. Yes, the creek was our friend, our playground, a refuge from fire, a baptismal font, a source of water for some, but a danger if you did not understand it.
I think of the almost tragedy when Vonhagens were almost drowned. They were driving south from the store and attempted to cross at high flood time. Mother saw them going in and called my father. He ran out but before he could reach the creek, they entered the water which was very deep and the ice below began to break. One wheel dropped in a hole and the wagon tipped, throwing Mrs. Vonhagen into the swift, cold stream. She was clutching Zelda in her arms, and Mr. Vonhagen jumped in trying to save them. He could not swim and could only touch bottom in some places and was helpless to even save himself. My father was a good swimmer and he jumped in and with great difficulty found Mrs. Vonhagen who was still holding desperately to Zelda, and he managed to get them out and then helped Mr. Vonhagen. The team meanwhile went a little way downstream and Ernest caught them. No doubt Mr. Vonhagen did not realize how deep the water was or the danger.
I remember how ill Hazel McMurchie was one summer and Mother looking after her. Then there was the time Mr. Randall was killed. He was taking a load of lumber down the Richardson Hill. The load was not securely fastened and when it slid forward, he fell in front and was crushed. The team ran away and ???? the wagon. Someone sent for Mother but he was dead when she arrived. As a child, it seemed to me that Mother was called often, being the only nurse in the district. I remember also when Mrs. Daley died of pneumonia and Mother worked hard to try and save her. Those were hard years for adults, having many hardships and heartbreaks.
In 1914 the railroad was completed west to Govenlock. In April of that year we sold the store and moved back to the Middle Fork Ranch which was five miles from Govenlock. My father had recovered from his accident, having gone to Winnipeg for treatments. It was a tiresome trip for mother and six children and it was late at night when we arrived. How welcome was our simple supper and the beds that mother was able to arrange for us as our furniture was not yet available, and we were glad to make the best we could for the night. Harry McCartin drove us over as my father remained to finish up the business.
We lived on the ranch for many years and saw many ups and downs. Ranching changed to farming as the settlers were brought in and the rich ranch land became dried out farm country. Hot dry summers persisted and in 1921 my father took a position as Customs Officer at Willow Creek. My sister, Hilda, died in 1929 in Havre Hospital and in 1933 my mother died in Maple Creek, a year before my father's retirement. The summer of 1934 my father moved to Lundbreck, Alberta, on a ranch with my brother, Ernest. In 1940 Eric who was living in Nelson, British Columbia, became very ill and died suddenly in Calgary. Later my father came to live with me in Calgary where he died in 1955. My other siblings included Roland, Daisy (who married Robert Bennett in Maple Creek), and Ester (who married Herbert Baskett).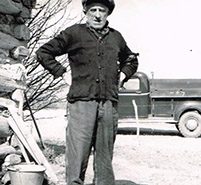 https://consulmuseum.ca/wp-content/uploads/2016/05/2-1.jpg
201
201
Susan P
https://consulmuseum.ca/wp-content/uploads/2020/08/museumlogo_header.jpg
Susan P
2016-05-04 19:39:48
2022-03-09 15:28:19
Harry Dore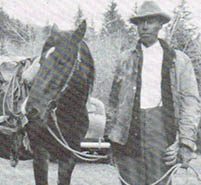 https://consulmuseum.ca/wp-content/uploads/2016/05/8-1.jpg
201
201
Susan P
https://consulmuseum.ca/wp-content/uploads/2020/08/museumlogo_header.jpg
Susan P
2016-05-04 19:42:19
2022-03-09 15:28:19
Louie Dumont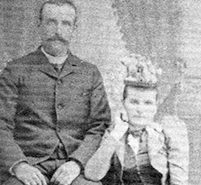 https://consulmuseum.ca/wp-content/uploads/2016/05/faulkner-1.jpg
201
201
Susan P
https://consulmuseum.ca/wp-content/uploads/2020/08/museumlogo_header.jpg
Susan P
2016-05-04 21:18:45
2022-03-09 15:28:20
W.C. & Ella Faulkner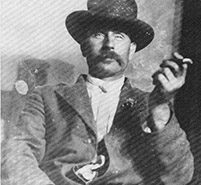 https://consulmuseum.ca/wp-content/uploads/2016/05/dennisgaff-1.jpg
201
201
Susan P
https://consulmuseum.ca/wp-content/uploads/2020/08/museumlogo_header.jpg
Susan P
2016-05-04 19:59:58
2022-03-09 15:28:20
Dennis (Bub) Gaff